about us
Tree Surgeons in London
Our tree consultants will take the time to get an understanding of what you want and will always suggest the best option for you and your trees. Our focus is achieving a balance between what you want from our services and the overall health of the trees, conservation needs, the look and feel of the area, health and safety requirements, legal stipulations, and tree planning.
Our friendly team of experienced tree surgeons will complete all of their work in a professional manner and ensure that any space they leave behind is clean and tidy. Our staff are known to be polite and show the utmost respect for the property of our clients.
We have recruited an environmentally conscious, diverse team of tree surgeons with a range of experience from the urban tree sector. As children, London's borough councils are where many of our staff first started climbing London's most prominent trees and they are now experienced tree surgeons with many years of tree planning and tree consultancy experience under their belts. Our staff receive ongoing up-to-date training direct from the Arboriculture Association. This includes training in the latest methods and technology to assist with tree removal and tree pruning techniques, as well as tree stump removal services and a continued understanding of tree pests and tree diseases.
The NPTC certification our staff have undertaken includes training on specific tree surgery elements, such as climbing trees with the use of chainsaw, tree pruning techniques, tree felling, rigging, dealing with storm damaged trees and arial rescue, and tree decay detection equipment. Training and education are important to us, which is why a number of our staff have gone onto higher education acquiring their level 4 diploma in arboriculture, all supported and paid for by Crowntree.
Caring for the Environment
A staggering 100% of the green waste generated from our customers' trees is recycled, with the majority going to specific green waste processing sites to be processed into renewable energy compost.
Gold Star Customer Service
We take pride in offering our clients the very best service. We also understand that wading through arboriculture terminology can be daunting and choosing the right services can be just as tough. That's why we prioritise making this experience as pleasant and as simple as possible for each and every client.
Our Charity Work
Over the years of working for many of London's schools, charities, and community hospitals, we have ensured that we always give our time and resources to those that have limited budgets and whose work benefits many. We have carried out many local projects in the Bromley Borough, including carrying out free tree maintenance on play areas, as well as worked directly with charity projects in the Greenwich borough. A small amount of wood chip from our green waste generated from our customers' trees goes to school play areas, community projects and golf courses.
Read more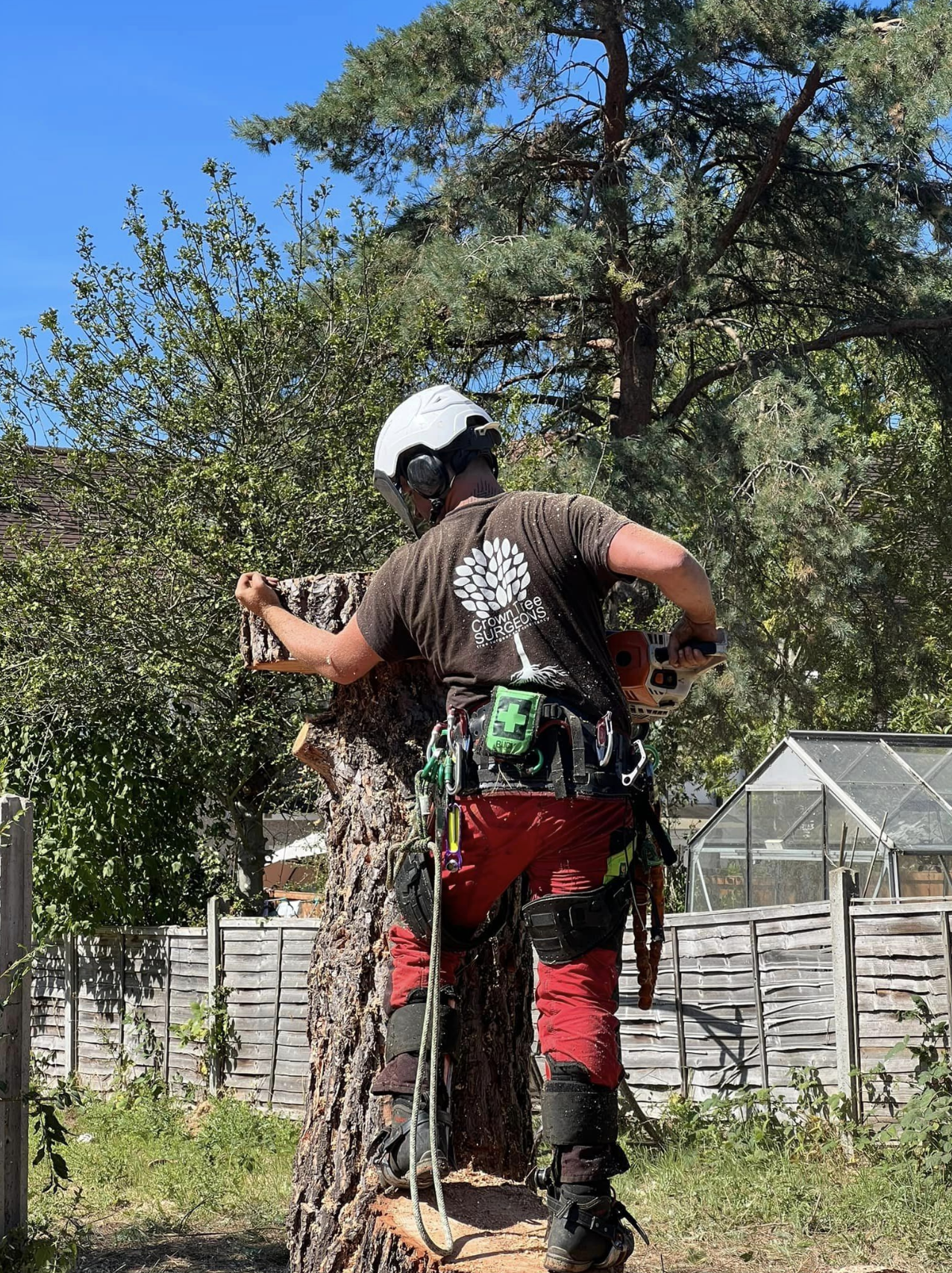 Certified Tree Surgeons
Our tree care team consists of highly experienced and certified professionals, ensuring exceptional service and expert care for your trees. Trust our skilled staff to handle all your tree care needs with precision and expertise.
Well Organised & Tidy
Our tree surgeons take pride in our well-organised and tidy approach. From meticulous clean-up to efficient project management, we ensure a neat and orderly experience throughout the entire process.
Specialised & Safety Equipment
Equipped with specialised and state-of-the-art safety equipment, our tree surgeons are prepared to tackle any tree care task with the highest level of precision and safety.  Rest assured, we prioritise the well-being of our team and your property at all times.
our services
Affordable Tree Surgeon & Tree Removal Services in London
Our locations
We can deploy our team of experienced and skilful tree surgeons in London & surrounding boroughs.
Whether you're located in the bustling city centre or the serene suburbs, we have the expertise and knowledge to handle the unique tree care requirements of different areas. Our dedicated professionals are equipped to provide top-quality tree care services across the diverse landscapes of London. Trust us to deliver exceptional results and preserve the natural beauty of your trees, no matter where you are located in the city.
We are proud to offer our services in various areas of London, and our team of experienced and skilled tree surgeons is ready to be deployed wherever you need us.
Read more
testimonials
Verifiable Customer Reviews following our Tree Surgeon Service
Crown Tree Surgeons were extremely flexible and helpful! The team gave their time to come and help Demelza Hospice Care for Children with their 2023 Tree-Cycle Event. Around 300 trees were chipped on site and we couldn't be more grateful for their support."
Demelza,
Hospice, Care
Highly professional, knowledgeable and sympathetic service from first enquiry to completed works. Significant works carried out in a conservation area to the highest standards. The site and surroundings were left with no debris or disturbance. No hesitation in recommending Crown Tree Surgeons Ltd.
Jonathan,
Hopper
Needed a large fir tree removing as it was too close to the property. Crown Tree Surgeons ltd replied to the enquiry immediately and gave good advice and quotation. The Felling of the tree was done by a professional team who were efficient and tidy . Many thanks to David and his team. Highly recommended Crown Tree Surgeons Ltd.
David,
Stevens
Very impressed with David and his team. David is highly knowledgeable and offered great advice for sorting out a large lime tree. The work was carried out less than a day after accepting his (very reasonable) quote–and done so to a high standard. Will definitely use Crown Tree Surgeons again.
Michael,
Lea, Rock
Had my oak tree's crown reduced. Found the company really helpful from the word go. Real professionals, did a really good job at helping me decide what was best for us and importantly the tree long term. Really happy with the end to end, would recommend.
Steven,
Varty
Crown did a fantastic job of dealing with a problem tree which was growing into the back of our church. David came promptly, looked at the problem and had the team out to fix it so quickly. The lads were polite and hard working and the price was exceptional. Would totally recommend them to anyone.
Rev,
Nick, Walsh, St, Luke's
our Faq's
Do you have any questions about our Tree Surgeon Service?
Permission will need to be sourced from your local authority if the tree is protected. Trees can be subject to planning by an individual TPO "tree preservation order" or they could fall within conservation areas. Our trained tree surgeons will carry out all checks. Heavy fines of up to £20,000.00 are in place for carrying out tree work to a protected tree.
On most occasions there would be no need to enter a neighbour's property. In cases where the mature tree being removed is on a property boundary, our team of tree surgeons may need to enter a neighbouring property. This is to safely lower branches to the ground and then to tidy any debris by blowing the garden with leaf blowers.
Our tree surgeon teams have many years of experience. When we come out to quote you, our team will highlight anything of concern that day. We will then relay this again on the day of work. In some cases, protection will be used to safeguard your property, from lawns to garden rooms and ponds.
In most cases tree works never exceed a day to carry out. Even the biggest of trees can be removed in one day. Occasionally, where trees are located on the roadside or have obstacles directly under the base of the tree, this may exceed a day as extra care must be taken.
Health & Safety legislation and the associated insurances are at the core of our business. We are covered with both public and employers' liability insurance. In addition to this, we are also covered for professional indemnity.
Yes, all of the resulting green waste will be removed unless you specify otherwise. Our woodchippers chip branches up to 8inch in diameter and any logs are processed into manageable sizes to be removed. 100% of our green waste is processed and used as biomass.
The resulting wood chips from stump grinding a tree stump are back filled into where the stump once stood. The wood chips themselves are very small in size and biodegrade quickly.